A Hole on Park Avenue; Who's Side is the FTC On?; Women Hotel Workers Suffer Higher Injury Rates | By Stanley Turkel, MHS, ISHC
3 December 2009

1. A Hole on Park Avenue
A recent article (November 18, 2009) in the New York Times headlined "A Hole on Park Avenue: The Site Where the Drake Stood is Likely to Remain Idle for Years." The 56th Street and Park Avenue location is "inarguably the best development site in the country and possibly the world", according to Woody Heller, an executive managing director at Studley, a real estate brokerage company.
The Drake Hotel was opened in 1926 during the "Roaring Twenties" by Bing and Bing, noted builders, who owned and operated the hotel for more than 35 years. The Zeckendorf Hotels Corporation acquired the hotel in 1961, added a new 180 guestroom wing and opened New York's first discotheque, Shepheard's. In 1965, Robert and Laurence Tisch bought the Drake and hired me to be Loew's first General Manager, a position I held for two and a half years.
Silent film star Lillian Gish lived there from 1946 to 1949. Other notable guests included Frank Sinatra, Judy Garland, Toots Shor, Milton Berle, Paul Anka, Barry Goldwater and Muhammed Ali. The Drake also attracted such famous classical musicians as Glenn Gould, Dame Myra Hess and Alicia del la Rocha.
On my office wall is hung the following framed note on Drake Hotel stationery with a signed photograph:
Dear Mr. Turkel,
I was very touched by your remembering my birthday and sending me this lovely bottle of Moèt et Chandon, which we drank with great pleasure. At the same time, I wanted to tell you that we find ourselves very comfortable at the Drake and are delighted with the service and attention that we get.
Sincerely yours,
Artur Rubenstein (world-famous classical pianist)
In the 1970s, a number of rock bands such as Led Zeppelin and the Who stayed at the Drake Hotel. But it was the talented Cy Walter, known as the "Art Tatum of Café Society" who opened in the Drake Room in 1945 as the resident salon pianist. The other restaurant was the most famous discothèque in Manhattan: Shepheard's at the Drake on the corner of 56th Street and Park Avenue. It was open seven days a week for cocktails, dinner and supper with continuous dancing to disco music from 7:30 PM to 3 AM. For years, it was the hottest night spot in town. At lunch on Friday's we featured fashion shows with live models. And one day a week, the famous coloratura soprano from the Metropolitan Opera, Mimi Benzell, hosted a talk show on WNBC radio. Sometimes, I was asked to fill in for an invited guest who failed to appear. What fun!
2. Who's Side is the FTC On?
As reported by columnist Janet Sparks (Continental Franchise Review, Franchise Times, October 2009), "The Federal Trade Commission's 2009 annual report clearly states, "combating fraud, deception and unfair practices in the marketplace is one of the FTC's highest priorities'….But in the FTC 2009 report, there is no mention of "franchising" under its consumer protection section although it lists numerous other categories: identity theft, shop-at-home and catalog sales, Internet services, banks and lenders, prizes and sweepstakes, work-at-home plans and business opportunities." After failing in her attempts to contact FTC franchise program director Craig Tregillus, vs. Sparks utilized the Freedom of Information Act (FOIA) to learn the status of three complaints filed against franchisors:
The Coffee Beanery which has been deeply engaged in legal action with two of its franchisees for the past five years.
Results: No complaints filed and no actions or investigations from the FTC for the past four years.
The UPS Store under franchisor Mail Boxes, Etc. which has been engaged in numerous franchisee lawsuits for more than five years, but on a much larger scale involving hundreds of franchisees.
Results: One complaint brought by a franchisee alleging that MBE will not adhere to the franchise agreement nor participate in arbitration. He also claims that MBE audited him without using generally accepted accounting principles and then charged him an additional $3000. The franchisee cites breach of contract as the law violation. The FTC showed no investigation or enforcement action as a result of the complaint.
Cold Stone Creamery, now under Kahala Corp. which is not only involved in litigation with its franchisees but also with the Internal Revenue Service in Arizona, Texas and New Mexico seeking a judicial decision on whether the franchisor or the IRS had the right to the property and equipment of a terminated franchisee.
Results: This request showed four complaints brought against the franchisor, none resulting in an investigation or enforcement action from the FTC.
Columnist Janet Sparks questions whether:
a. the FTC is even interested in receiving complaints from owners who claim they are being victimized fraudulent schemes.
b. the FTC is sending a strong message to franchisors that they have nothing to fear regarding FTC enforcement.
c. the FTC thinks that the International Franchise Association (IFA) is a self-regulatory body and doesn't need help from the federal government.
Any objective observer recognizes that the IFA is heavily skewed in favor of franchisors. It rarely supports any of the critical issues of importance to franchisees:
Areas of territorial protection
Choice of venue
Fair termination provisions
Appropriate liquidated damages
Independent franchise owners councils
3. Women Hotel Workers Suffer Higher Injury Rates
A recent study of hotel workers at 50 United States hotels found that women were 50% more likely to suffer injury than men and that Hispanic women had injury rates two-thirds greater than white female workers. The study, "Occupational Injury Disparities in the U.S. Hotel Industry" was presented in early November 2009 at the annual meeting of the American Public Health Association in Philadelphia. The study focused on 50 unionized properties and examined 2,865 injuries over a three-year span. The study found the highest injury rate for housekeepers was at the Hyatt chain at 10.4 percent and lowest at the Hilton chain at 5.47 percent.
Other studies have tied the high injury rate to the work required to lift heavy mattresses, move heavy furniture, to clean a dozen or more rooms during an eight-hour shift, vacuum carpets, push housekeeping wagons and to carry soiled linen to laundry baskets or laundry chutes. The recent revolution in upgraded and heavier bedding is probably a major contributing factor.
4. Quote of the Month
"Success is the ability to go from one failure to another without a loss of enthusiasm."
-Winston Churchill
Please take note that Stanley Turkel, MHS, ISHC has just published the book "Great American Hoteliers: Pioneers of the Hotel Industry." It contains 359 pages, 25 illustrations and 16 chapters devoted to each of the following pioneers: John McEntee Bowman, Carl Graham Fisher, Henry Morrison Flagler, John Q. Hammons, Frederick Henry Harvey. Ernest Henderson, Conrad Nicholson Hilton, Howard Dearing Johnson, J. Willard Marriott, Kanjibhai Patel, Henry Bradley Plant, George Mortimer Pullman, A.M. Sonnabend, Ellsworth Milton Statler, Juan Terry Trippe and Kemmons Wilson. It also has a foreword by Stephen Rushmore, preface, introduction, bibliography and index. Visit www.greatamericanhoteliers.com to order the book.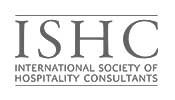 The International Society of Hospitality Consultants, ISHC, is a professional society of 200 members in 22 countries who are leading consultants in the hospitality industry. The Society is dedicated to promoting the highest quality of professional consulting standards and practices for the hospitality industry. Membership is by invitation only. ISHC as an organization represents a one of a kind collection of experience and expertise in the hospitality industry. ISHC members have expertise in over 30 different specialty areas in the hospitality industry and collectively have experience with over 50 hotel companies and nearly 100 brands worldwide. Additionally, ISHC members represent numerous prominent independent hotels throughout the world. ISHC members' clients include domestic and international, public and private hotel owners and investors, many leading financial institutions, Fortune 500 companies, food and beverage service firms, airlines, cruise lines, time share and vacation ownership companies, universities, state, national and international convention, hospitality travel and tourism bureaus.
Contact
Stanley MHS, ISHC Turkel
United States - New York, Phone: +1 917 628 8549
Email:
stanturkel@aol.com
Organization
Stanley Turkel, MHS, ISHC
www.stanleyturkel.com/
147-03 Jewel Avenue
USA - Kew Gardens Hills, NY 11367
Phone: 917-628-8549
Email:
stanturkel@aol.com
Recent News
Stanley Turkel, Hotel Man, Historian, Civic Gadfly, and Social Activist, Dies at The Age of 96
9 September 2022
Nobody Asked Me, But… No. 270: Hotel History: Hotel Martinique (1910) | By Stanley Turkel
26 August 2022
Nobody Asked Me, But… No. 269 Hotel History: Paso Robles Inn (1891) | By Stanley Turkel
4 August 2022